Back in June, we were very kindly asked by the ladies at Common Place if we wanted to partake in the now annual Levy Fringe Arts Festival .Fortunately we had been plotting a little community event of our own so (the Levenshulme locomotion flashmob video!) we hooked up straight away!
We asked a bunch of people who had been very supportive and excited by the Station South plans to come along and take a chance on us. They didn't know what they were getting themselves in for and yet people turned up in swathes!
We put an open invitation out to the community, little did they know they were coming along to support our future crowdfunder and make a video!
"All fun seekers are invited to the Fallowfield Loop to be part of a big surprise event. Bring yourselves, bikes, scooters, dogs, grannies, kids and most importantly bring your sense of humour and best sass! It promises to be extremely silly and fun."
We didn't expect as many people to show and it was heartwarming to see the support for Station South. Even more exciting when we realised Levenshulme is well up for a challenge – a Flashmob dance challenge! Everyone got involved and our wonderful dance choreographer Abigail Holden led over 100 people big and small in a dance routine which involved a lot of train moves. Here are the results:
The Levenshulme Locomotion Flashmob Video
Loco Card – 10% Off All Food And Drink – Crowdfunder Pledge Reward
We think the locomotion video launch is a perfect chance to celebrate one of our top local incentive pledge rewards. The first class loco card, which entitles all pledgers to 10% off all food and drink during our first year of operation is £25 and will save you lots in the future. There's also special food and drink offers exclusively for our loco card members. Check it out below: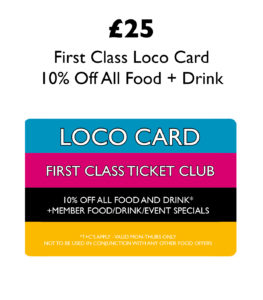 Thanks To The Station South Volunteers
Thanks to all who made the day possible including Gareth Taylor and Graeme Stuart on filming and the volunteers who  helped keep people safe and hydrated on a hot day! We loved meeting you all. Hope you enjoy the video. Please share our current Crowdfunder so we can do ore fun things once we're in the building.