We are delighted to share the news that we have appointed specialist build and fit out contractor, Medlock FRB to complete the final phase of building works at Station South and hand it over to us for the finishing touches by the end of this year! We're really excited to have such an experienced building developer on site whose previous build and fit outs include The Produce Hall in Stockport, El Gato Negro on King Street and Everyman Cinema at St John's.
This final phase of building works will deliver some of the big vision changes that the team have been working hard to secure funding for like the retention of level access throughout the building and heritage features like the 'viewing platform'.
Now is as good a time as any to say thank you again to the 1161 crowdfunders who took just over a month (back in 2018!) to help raise 66K and have waited patiently for their 'cream teas' and 'paté parties' ever since. Thank you!
Subsequent funding partners have certainly noted this big commitment of support, funding, patience and good will from supporters and seen fit to fund the Station South project team to complete the restoration and get us open!
So a big thanks to Railway Heritage Trust, Key Fund, Power To Change, Architectural Heritage Fund, Sport England, Transport for Greater Manchester, Manchester City Council, One Manchester, Transpennine Express and Railway Paths for your support to get this wonderful building of railway, high street and local historical significance open to the public once again.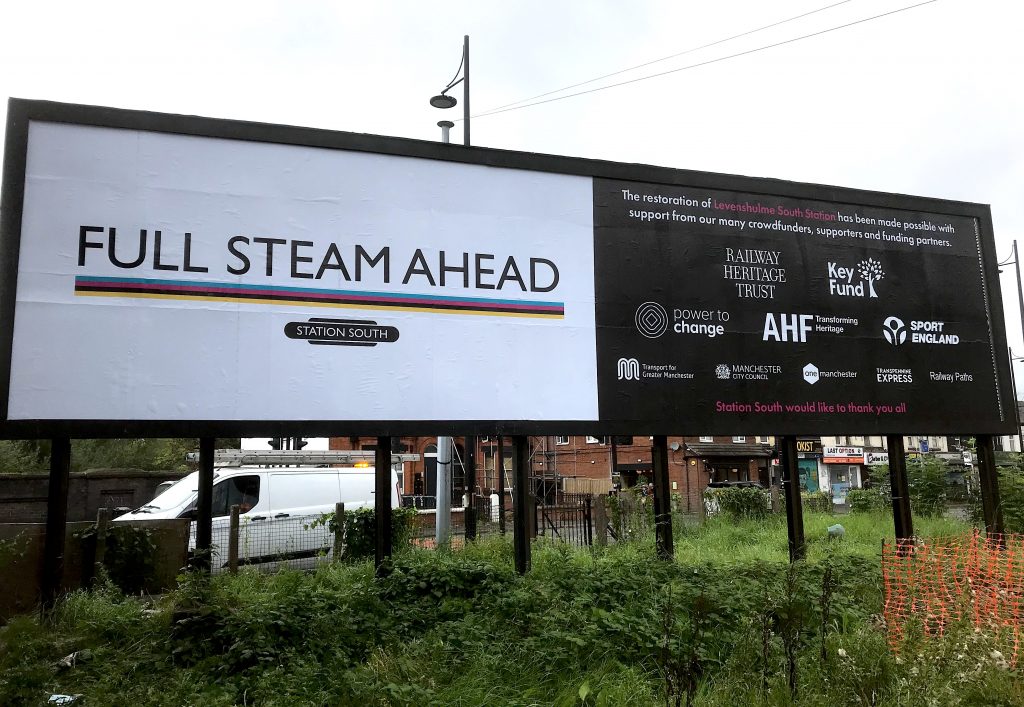 The £400K contract includes work to open up the back windows of the old train station, restoring the original wooden frame reglaze the section which is currently corrugated metal. This will let abundant light and nature pour into the unique space and allow our customers to watch the world go by on the Fallowfield Loop with a brew in their hands. The dream!
Creating An Accessible Venue For All
One of our priorities and something the community asked us to make possible from day one was creating a space for Levenshulme and the cycling community that people would be able to access and utilise with ease.
Our build plans have ensured we will have accessible entry points with automation on our Main Hall entrance which will connect to the fully accessible path from loop to building.
We have retained level access throughout the main building with thanks to some clever engineering solutions from Steve Reynolds at Westlakes who has given additional time and expertise to support building and structural decisions, one of many skilled people going above and beyond to support the project.
Toilets, Doors and Parquet Floors
We will have a dedicated accessible and child friendly toilet in the main hall. Our bar will have a dropped service point for customers who use wheelchairs to order with more ease. Before we get open, we'll be inviting accessibility groups to the venue to review layout and help us shape a venue that works well with those people in our mind and design.
Contractors will create a new staircase to the old station masters rooms at track (Floop) level to give internal access for the first time in the building's history. This will accommodate additional toilets and storage facilities for the venue, allowing more space in the main hall for public use. This is made possible with funding from Railway Heritage Trust .
New entrance doors will be added to the side of the building. New flooring throughout will merge with the restored parquet dance floor in the main hall, a heritage feature enabled by our crowdfunders support! (A gentle nudge for those of you who have not yet got your parquet tile inscriptions into us, we need your words so please get in touch – thanks to all who have sent theirs in so far.)
A new air conditioning and heating system will be installed and will be fully electric in a bid to work towards a reduction of carbon output and the use of renewable energy. Just some of the works to complete before we get in and add the decorative stuff!
Next Up: A Winter Warmer Open Day – An Invite To Our Future Volunteers!
We anticipate that a lot of the messy building works will be complete before Christmas. We should have access to a 'ready to move' into building by the end of this year.
We want to share the building progress and show off the beautiful open space before we get the final fixtures and fittings ready for opening and think it's a great opportunity to recruit some of our supporters to help us get the building and garden in tip top shape before we open.
Can You Lend A Helping Hand?
We'll share more details about the types of volunteering opportunities there will be for those willing and able volunteers to sign up to. We've had a lot of lovely offers from people so if you're up for helping out and want to come along in December, we'll be in touch as you're already on our list or if you're a new addition, we'd love to hear from you. We have a BIG to do list at the ready! More details to come soon.
When Will We Open?
We're primed for opening in the Spring of 2022. Finally! We cannot wait. Thanks for sticking by us on this long-haul journey, we'll be in touch again soon with more progress to report.
All Aboard!
Pauline, Abigail and Mark