What Is Artvert?
It is the UK's only social advertising board. We do good advertising that does good.
Simply put, we sell big billboard space in a prominent location and ring fence the profits for art + community projects.
So, when you advertise with us, you directly support artists with a platform to showcase art + promote your business too. Win/Win.
Who Is It For?
Anyone with something to say (within reason…) We're all ears when it comes to creative uses + ideas.
We seek collaborations with brands, campaigners, good business and the next big event. We are here to work with people who share our creative flair and social ethos. Talk to us about your idea. Let's work together and do something magical.
Three Reasons Why You Should Book With Us
1. We care more
The big guys do not have time for the finer details. We do. They have 1000's of spaces across the UK. We have 1.
It is our shining beacon of advertising hope. We care a lot about it and what goes up there. Choosing our prime site, means we work with you to make it work for you. It's not just another advert to us.
2. You care more
We are your bespoke billboard. With us, you get the Station South full works treatment.
Professional, creative + marketing support all wrapped up in a socially enterprising way. We use this ethos to galvanise the brands we work alongside. An endorsement with mutual benefits that makes certain your campaign reaches the right crowd and takes advantage of our unique vantage point.
3. We can do more together
We're not bound by any rules (apart from the advertising standard ones of course). We offer a maximum impact, high profile campaign opportunity at Station South HQ and you can help shape what that looks like with us.
We have plenty of creative ideas to share but we want to hear about yours and how we can make them work. How can we make your advert and advertising budget reach further? Nothing is off the billboard for us.
What Do You Get With Artvert?
Front Of The Board
We have a whopping 96 page, high profile advertising billboard sitting atop the A6. Fully restored in 2019, wooden framed and lacquered in matt black, with a little Station South "sausage totem" proudly adorning it, to put our independent stamp on it and let passers by know we wholly endorse the messages we showcase here.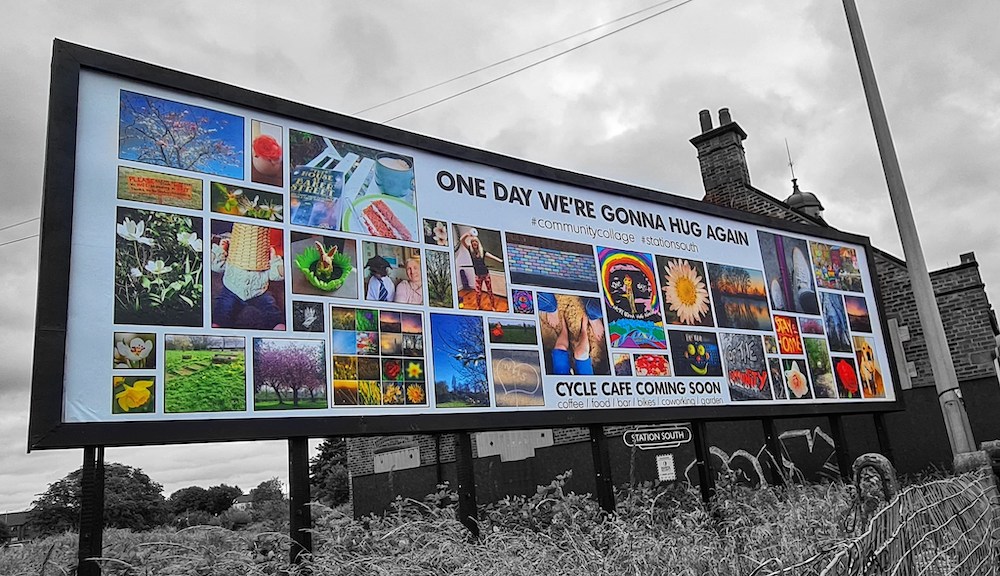 A Few Cool Facts
Back of The Board
And on the back, another 96 pager. This can be split into two smaller adverts or kept as a biggie.
What you get here is a chance to shine to a captive, active travel and leisure audience. The walkers, the cyclists, the runners.The dog owners. The retired perusers, the cafe dwellers, the green fingered nature lovers. The back to schoolers and everyone else in between.
The Fallowfield Loop – where the back of the board points – is such a well used shared path that you're bound to create an impression.
On top of that, when 'Station Green' opens up along with Station South, suddenly your advert becomes the backdrop to those enjoying our cycle cafe's very large outdoor terrace and green space.
A captive audience of 100's of people every day, enjoying the atmosphere and the views, including your prominent billboard advert.
Artvert Add-ons
Artvert Bonus
As well as this, we make sure your advert has a legacy to it. It doesn't end when it's pasted over.
Each year we will create a digital archive of the art + advertising with the origins of the advertising, how we worked together and what social impact emerged from the investment into Artvert. We think that's a nice way to remind us and everyone else what good work has been done as a result of your choice to advertise with us and do some extra good with your budget.
So if you like the sound of what we're doing with our high profile advertising space, and want to do good advertising that does good, we want to work with you.
What Does It Cost?
It depends how long you'd like to be up and when but we think you'll be pleasantly surprised at the price.
Have a chat with us today and we can run through our rates with you. We have Community/Social Enterprise and Charity rates as well, so let us know if you fall into this category.
Talk To Us.